Click here
to enquire about a project and tell us your particular requirements.
T +44 (0)1932 230 333
F +44 (0)1932 230 455
E
sales@wrweng.co.uk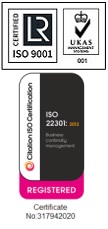 WRW Engineering are a team of experienced engineering professionals with a proven track record as a subcontract engineering service provider.

We possess a unique combination of in-house skills, which includes machinists, electrical and mechanical assembly engineers, supported by a proven supplier base enabling us to provide our clients with a one-stop-shop engineering service.

Our experienced and flexible workforce are committed to an ongoing programme of training and development in order to achieve our business objectives and to continue to provide the best possible service to our clients. We are proud to have a financially stable environment and highly motivated workforce to enable us to constantly improve our business processes.

WRW operates and continuously improves a Quality Management System in accordance with the requirments of BS EN ISO 9001 2000 Certification. It is reviewed for continuing stability and effectiveness and is communicated and understood throughout the company.